Join Andrew at Nalandabodhi Boulder for informal weekly talks
on the teachings of the bardos for the modern age.
These talks will be offered Tuesday evenings 7-9 pm from February 7 to March 14.
We hope to see you there.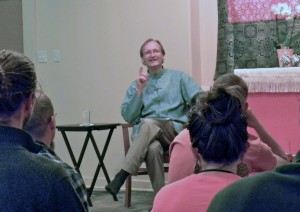 The bardo teachings are intended for the end stages of life, but a closer reading reveals their deeper meaning: they apply to every moment. Any situation that ends — a job, relationship, day, or moment of mind — abides by bardo principles. Learning how to die is learning how to live. This class will reveal the hidden dimensions and vast applicability of the bardos, joining ancient wisdom with modern knowledge. The journey through the bardos is a journey through the mind — by exploring them we are exploring ourselves.
What are the best meditations for death? How can I help others die? Can I help them after death? Learn about advance directives, signs of impending death, hospice, grief, funeral issues, and medical and legal challenges. What about suicide, organ donation, sudden death, euthanasia, abortion, or the death of a pet? With preparation, we can transcend death, transforming the greatest obstacle into a once-in-a-lifetime opportunity – for ourselves and for others.
For anyone that attended my bardo classes at Nalandabodhi eight years ago, this is not the same class. It casts a much wider net. We will use the death principle as a kind of archetype, revealing the vast applicability of the bardo teachings to every moment. The class is about bringing unwanted experience onto the path, and literally expanding the "posture" of meditation to include everything.
The spiritual path is really death in slow motion, and the challenges of illness and aging are just a preliminary practice (ngondro) for death. And, of course, this class is about understanding the nature of mind, and revealing the deepest aspect of our mind that does not age or die. As Sogyal Rinpoche says, "The still revolutionary insight of Buddhism is that life and death are in the mind, and nowhere else. Mind is revealed as the universal basis of experience—the creator of happiness and the creator of suffering, the creator of what we call life and what we call death." When we die, we will meet our creator, our maker — mind itself. Why not meet this maker on our own terms, here and now, and therefore make death a beautiful experience?
Details of the Program
Date/Time: Tuesday Evenings from 7:00 to 9:00 pm, February 7, 2017 through March 14, 2017
Contact for more information: Eileen Kay at [email protected]
Cost: Members of Nalandabodhi $75, Non-members $90
Location: Nalandabodhi Boulder, 100 Arapahoe Ave, #6, Boulder CO 80302