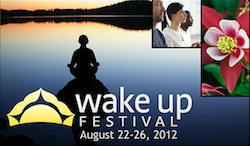 Recently I was able to attend the Wake Up Festival, held in beautiful Estes Park, Colorado, as a guest. This inaugural five-day event was put on by Sounds True, a multimedia company in Boulder that records talks and publishes books by an incredible variety of teachers. Sounds True is the brainchild of Tami Simon, a wise and powerful woman who has brought spirituality into the lives of thousands. Her bold and innovative approach to propagating teachings is setting an industry standard.
I've been to many spiritual events over the last thirty-five years, but I've never seen anything like this. Six hundred participants listened to poets, scholars, musicians, healers, spiritual teachers, preachers, and authors from a diversity of spiritual disciplines, New Age and traditional. From Adhyashanti, Jack Kornfield, David Whyte, Gangagi, Michael Beckwith, Rick Hanson, and dozens of others, it was a real feast of heart, head, and everything in between. Mornings offered a variety of choices: yoga, meditation, Qigong, dance, or chanting. Evenings were usually filled with music or poetry.
I made it a point to keep my heart and mind open, and to just take it in without reflexively judging it. Even though I have taken refuge as a Buddhist, no one has a patent on truth. Different strokes for different folks. (I always put my judgmental mind away when I remember that it was the TV series Kung Fu, over forty years ago, that got me into spirituality.) With this open approach, I thoroughly enjoyed the event. It was a parade of the human spirit, clothed in lots of different fashions.
I tried to learn from all these people, to stretch my horizons by hearing other points of view. For me, this is a big deal. It's great to have confidence in your chosen path, but a near enemy of confidence is hubris, and therefore a closed mind. Taken to an extreme, that leads to religious wars. The author Alan Wallace says, "What don't we know and what do we know? It's very hard to find that out when we only engage with people who have similar mentalities to our own." I'm not afraid to cross-pollinate with other spiritual traditions. I'll take wisdom wherever I can get it.
One of the ways that Buddhism, for example, refined and developed its sophisticated philosophy and psychology was to engage in dialogue and debate with other traditions, principally Hinduism. This dialogue forced Buddhist scholars to look closely at their own tenets, and to sharpen them. The word "competition" comes from roots that mean "to seek, or strive, together." That's the true spirit of competition – at any level. Let's bounce our ideas and beliefs off of each other, and help each other grow.
Was there some spiritual materialism on display? Of course. Were some of the presenters stuck in nyams (spiritual experiences)? Indeed. But were people genuinely benefited? Absolutely – and that's what counts. I have come to the point that if someone is truly helping someone else, that's what matters. Who am I to judge the karmic connections people have, and the paths or teachers that attract them. As the Dalai Lama says of this matter: "I think it is better to have a noninterference policy!"
Coming right after the Olympics (which I admit I watched – I love to celebrate the amazing gifts of the human body, and the unified spirit of the games), I found this to be similar in many ways. So many gifted "spiritual athletes," "competing" in so many different "sports." I delighted in some of the events, and found others of less interest. But I rejoiced in the smiles I saw across the five days, and the genuine love and warmth that arose.
As I was watching the cascade of presenters, it reminded me of the huge stained glass panels in the great cathedrals of Europe. Each presenter was like a small panel of stained glass, transmitting and filtering the pure light that was shining through. Each one was illuminating someone in the audience who could connect to that "color" or "shape." The pure light that streams into the glass is the point — not the way that light is colored and refracted. By the end of the event, I could see that many had been touched and warmed by the light, and were now eager to explore those wavelengths on their own. The most sensitive presenters all directed us back into ourselves, to the source of what we are truly looking for. While the light seemed to come from the stage over those five days, it actually shines from within.
I applaud Tami, and her capable companions at Sounds True.