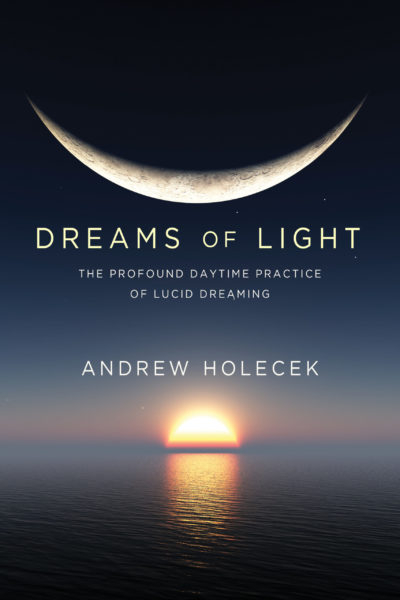 Dreams of Light: The Profound Daytime Practice of Lucid Dreaming, published by Sounds True, is a deep dive into the heart of all the nocturnal meditations, which includes dream yoga, sleep yoga, and bardo yoga. This book is a rigorous exploration of the daytime practice of Illusory Form, and why this practice is so important. Many people struggle with lucid dreaming. So much is promised, so little delivered. With the practice of Illusory Form, you can arrive at the same insights and discoveries delivered by the nocturnal meditations. And unlike lucid dreaming, the daytime practice of Illusory Form is easy. Anybody can practice it.
This is a no-holds-barred and no-nonsense look at the illusory nature of reality, how lucid dreaming and the practice of Illusory Form lead you to that view, and why this is so important. It may appear to be esoteric and philosophical, but in the end it is extremely practical and exoteric.
Available from your favorite bookseller including:
Amazon | Barnes & Noble | Sounds True | IndieBound | Books-A-Million
The many playful practices of Illusory Form are inserted throughout the book, inviting the reader to practice what the text preaches.
Part I, Deconstructing the Sense of Self: The Edge of Emptiness, has chapters on Introduction to Emptiness, Practical Applications of Emptiness, Emptiness and Illusion: From Reactivity to Equanimity, The Via Negativa, and The Problem of Thing-Thinking. Emptiness is the heart of lucid dreaming and dream yoga, and Part I goes into this profound topic in detail.
Part II, Manifesting Clear-Light Mind: The Play of Luminosity, has chapters on Illusory Form and the Clear-Light Mind, The Eighth Consciousness: The Foundation of Dualistic Mind, Transforming the Basic Fault, Are You Dreaming?, The Experience of Illusory Form, Headless Wonder, and Illusory Form and the Roots of Fear.
Part III, Finding Support in Science: The Illusion of Externality, has chapters on The Science of Illusion, My Favorite Illusions, The Creative Power of the Mind, The Illusion of Duality: Visual Perception, The Realization of Illusory Form, and the Underview Effect.
Through an in-depth exploration of the tradition, beginners and seasoned practitioners alike will learn everything they need to enter the unexplored realms of our waking states.  For those curious about altered states of consciousness, psychedelic therapies, and near-death and out-of-body experiences, Dreams of Light opens a time-honored gateway to kindred―and for many, even more profound―terrains of perception. "It's all about the roots of suffering, and how to end it," says Holecek, "I'm personally really excited about this book, and have wanted to write it for decades."
"Dreams Of Light" Book Study Group
All sessions have been recorded and are offered as part of a premium membership to Night Club, Andrew's online lucid dreaming community.
"Dreams of Light is a profound exploration of emptiness, illusion, and the clear-light mind. Andrew's deep scholarly knowledge, poetic prose, and compassionate heart illuminate every page of this fascinating book. Dreams of Light will raise your awareness and bring lucidity into every part of your life."  — Dr. Clare Johnson, author of Llewellyn's Complete Book of Lucid Dreaming.
"Andrew Holecek is a master of the dream yogas and lucidity practices, and I have learned more from his writings than from the many related books I have studied. I highly recommend his new work, Dreams of Light, and all his other books as well." — Roger Walsh MD PhD, University of California, author of Essential Spirituality: The Seven Central Practices .
"This is an important and very pragmatic book for bringing daytime practices into the realm of lucid dreaming. Holecek isn't just a writer; he has expertly walked the path himself. Through the apt use of metaphor and clear examples, Holecek's wisdom shines forth as he gives useful instructions for the reader to follow in his footsteps. I enjoyed this book immensely." — Judson Brewer, MD, PhD. Author of The Craving Mind; Director of Research and Innovation, Brown University's Mindfulness Center
"Andrew Holecek's revelations about the illusory, dream-like nature of everyday life – drawing deeply upon the combined wisdom of science, religion and philosophy – will blow your mind. He convincingly demonstrates that nothing is ever quite as it seems, and that this knowledge has the power to set us free. For anyone on a quest to "get real", either in their waking lives or in their dreams, this volume provides an invaluable tool box of daytime practices that perfectly complement the nighttime techniques of lucid dreaming and dream yoga described in his previous book. Holecek is not just a teacher of lucid dreams: the spiritual path that he illuminates changes everything." — James Kingsland, author of Am I Dreaming? The New Science of Consciousness and How Altered States Reboot the Brain.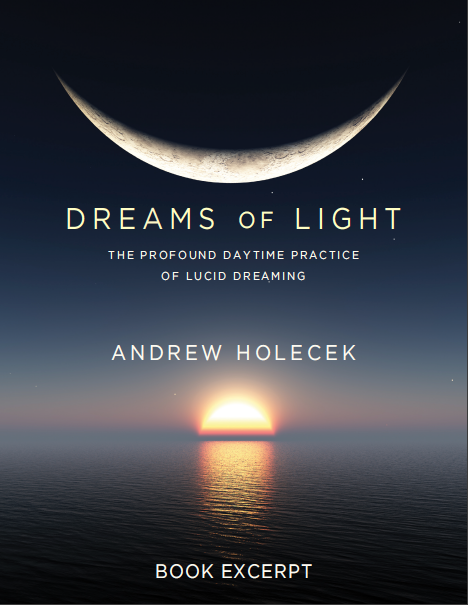 In this episode of
Insights at the Edge
, Andrew and Tami Simon, the founder and CEO of Sounds True, discuss "Dreams of Light", including: the traditional three-step approach to the practice of illusory form, seeing the world in a more authentic way and connecting to what's real, uncovering the roots of human suffering, the intersection of neuroscience and the world's wisdom traditions, and much more.
Play interview in new window.